Blush Ultra Lounge in Niagara Falls – Hot Spot Nightclub
09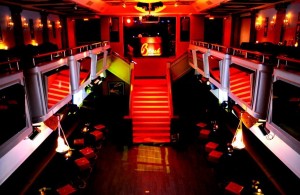 I am from Niagara Falls, Ontario and what I often get asked about it where the hot spots are in Niagara Falls to go out.
Many of my Toronto friends or those from just over the border in Niagara Falls, NY or Buffalo come to the Falls for a getaway of sorts and to experience a different club scene.
When they ask me, I always tell them that Blush Ultra Lounge is their best bet for many reasons…
Blush Ultra Lounge is one of the newest and hottest nightclubs in the Niagara Falls nightclub scene.
They boast a full-service, 2-floor boutique-style nightclub nestled in the heart of Niagara Falls nightlife in the Centre Street district, as well as inside of the tourism district at the top of Clifton hill.
If you`re looking for the Blush Ultra Lounge location, it is located inside the BeefBaron building at 5019 Centre St., Niagara Falls, Ontario in the Centre Street Bar District of the Falls.
What`s uber-cool about Blush Ultra Lounge is that it not only boasts 30 foot high ceilings, but uses a state of the art light and sound system, is adorned with granite bars, and there is a second floor mezzanine overlooking the main floor with its own bar and dance floor upstairs.
There is a huge stage with a DJ booth towering directly above the stairs to the mezzanine level in full view of both levels of the club, which allows their DJs to put on unmatched shows creating an almost concert-like atmosphere.
Blush Ultra Lounge is a chic, modern location which attracts not only the locals, but those from out of town looking for a new destination to party, as well as year-round tourists interested in taking in the Canadian nightlife, sipping on martinis, or dancing the night away.
VIP Bottle Service is available, and they also cater to Bachelor & Bachelorette Parties.
Currently, Thursday is Industry Night, Friday is Ladies Night, and Saturdays are being celebrated as Summer Saturdays.
With drink specials, draws & giveaways, great looking, fun people, and the varied crowd you`re desperately searching for, check out Blush Ultra Lounge. Make the trip to Niagara`s Centre Street Bar District…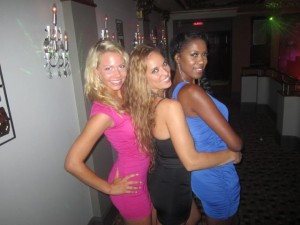 Typically, whenever me or the Kapow Models go out in Niagara Falls, it will be to Blush!
Photo left: Here are Ellise C., Kimberly Edwards (me), and Amanda F. celebrating at Blush after the LivingPink.info Bash for Breast Cancer! * Blush Ultra Lounge is one the official LivingPink.info sponsors.
Come on out and see if you can spot us either on the dance floor or upstairs on the mezzanine!
***
I hope you enjoy What`s New on Livin` Like Kimberly Edwards. Until next time…
I Am & Will Continue To Be,
Kimberly Edwards