Canadian Model, Kimberly Edwards, Shoots with MK Kreations Artistry & Divine Dresses 4You
03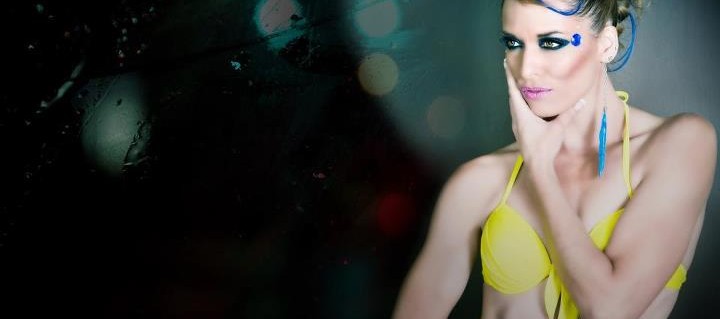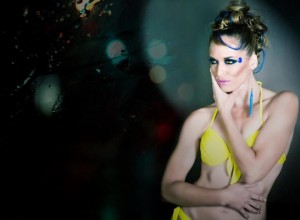 Two weekends ago, Kimberly Edwards had the opportunity & honor to work with MK Kreations Artistry, who held a photo shoot for Divine Dresses 4You.
MK Kreations Artistry handled make-up & hair, with Maryam Khan at the wheel for make-up, and Preeti Sandhu creating fabulous hair coifs for 4 different models, including Kimberly's beautiful "do" accentuated with blue!
Photo above: Model: Kimberly Edwards; Photo: DG Passions Photography; MUA: Maryam Khan of MK Kreations Artistry; Hair: Preeti Sandhu; Designer: Divine Dresses 4You; Jewelry: "K, Turn Around" Jewelry by Kimberly Edwards; Agency: Kapow Models & Talent Agency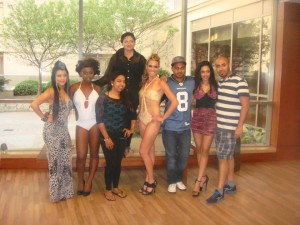 The designer fashions worn at the shoot were from Anggy Paz's line called Divine Dresses 4You, and that's exactly what she provided the models with…DIVINE dresses, catsuits and bikinis from her line, so that they looked as glamorous with their clothing as their hair & make-up did. They complimented each other.
Photo left: The Photo Shoot Team!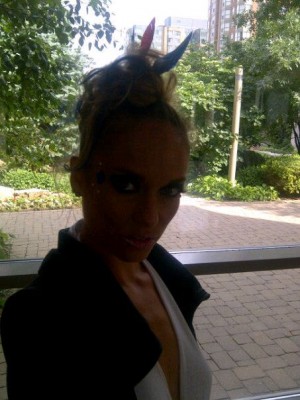 The jewelry provided for the shoot was from both the Divine Dresses 4You line, and from Kimberly Edwards' line, "K, Turn Around" Jewelry by Kimberly Edwards.
Photo right: Kimberly Edwards with 2nd look hair ready at photo shoot. Apologies for lighting.
DG Passions Photography graced the shoot with stellar captures you will all be so excited to view when they're released. The team of Gaurav Kanda & Danial Iftikhar work their wonders to collaborate with the models to achieve some magically amazing photos to crown the hard work put into this entire shoot.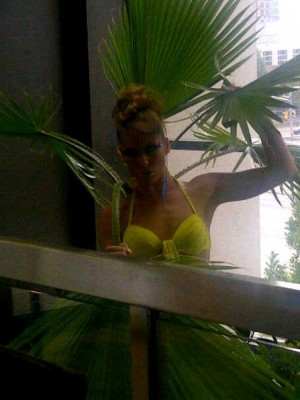 Kimberly, being the adventurous model she is, is not afraid of getting a bit nervy as she posed in the "jungle", balanced on outdoor objects, climbed walls and posed on rocks, DG Passions Photography was right behind her to allow her to express her inner model and create some of the most exciting photos she's come up with to date. Be ready!
Photo left: Kimberly Edwards posing in the "jungle".
Again, Kimberly Edwards models for Kapow Models & Talent Agency.
Thus far, there is one photo published from the shoot of Kimberly Edwards, which is shared above. Kimberly is wearing a yellow bikini from Divine Dresses 4You, and the Single Feather Dangle Chain Earrings from "K, Turn Around" Jewelry in Sky Blue.
When asked how her photo shoot went, Kimberly replied:
What a long day of fun, but we worked so hard and got some fantastic images that will be sure to please. I was happy to meet two models I have never worked with before, and got to reunite with one I have worked with before. Sachel Metoo is a model I walked runway with at the International Fashion Fest in Toronto last fall. She is also Miss South Asia Canada, and we had a great time catching up while getting ready to shoot in hair and make-up.

I always love working with DG Passions Photography, and especially Maryam Khan of MK Kreations Artistry, who had a clear vision of what this shoot should be. It was that and so much more, and I think we accomplished a great feat today! Can't wait to work with everyone at this shoot in the future. Thanks, guys!!!
We will keep you posted as more photos are released from this amazing photo shoot. Stay tuned!
***
I hope you enjoy this Modeling post on Livin' Like Kimberly Edwards. Until next time…
She Is & Will Continue To Be,
Kimberly Edwards