Find Fun Family Events and Activities in Your Local Area
28
I found a really neat website today, ParentsConnect.com, where you can go to get updated on fun activities and events for the entire family in your own local area! Especially great for teens and pre-teens!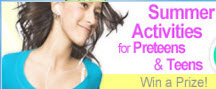 That's right! In fact, you can even install the widget on many of your social networking platforms or your own website so you can be up to date on the coolest events going on…
Oh yeah, and the person who gets the most views from their widget – wherever that may be – wins $1000!!! – So, use my widget in my sidebar on this site – it's at the bottom and enter your city, state and zip code to get activities for you and your family!
…Great for summer, right? Absolutely, with the kids off on vacation from school, I'm sure they're looking for some fun, and as parents, I'm sure you can't wait to spend some great, quality time, outside for a change, with your children!
I'm excited to see what's new and exciting around our area that where we could go and have some fun.
I just looked up our area and the Ringling Bros Circus is in town – Well, they're having a free Elephant Block Party tonight for people to come and enjoy some circus clown antics, as well as a an elephant parade, where the handlers will be walking the elephants for the public to see.
Now, I'm not crazy about circuses because I'm never sure how the animals are treated, so I don't like to support them by buying a ticket to go see them, but I will go see for myself for free, and I'll get a chance to see some of the most majestic creatures on the planet! Elephants!
If you didn't know my obsession for animals, you must go check out my site – ExoticAnimalLover dot com!
Anyway, I looked up our are for today and there were about 20 things to do! Wow!!!
So, if you're looking for something to do today, tomorrow or any day of the year, check out Parents Connect! It rocks!
***
I hope you enjoyed this Neat Stuff on Life of Kimberly Edwards! Until next time…
I Am & Will Continue To Be,
Kimberly Edwards 🙂
P.S. Be sure to Subscribe to Kimberly-Edwards Updates too!
Technorati Tags: Parents Connect, fun events, fun activities, local events, local activities for kids, family activities, family events