I Like Bling When it Comes to Fashion
25
For any of you that really know me, you all know I like a little glitz, bling and dazzle.
I like anything shiny and sparkly! That's for sure! LOL…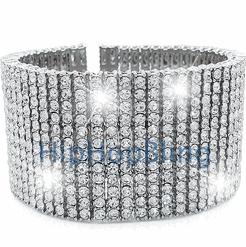 Okay, not for everyday or on everything, but you definitely could use a dash of it in your daily wardrobe.
Sometimes that one accessory you use is a piece of Hip Hop Jewelry.
It can accent your look, give you that bling and not be too overwhelming with your outfit.
Now, hip hop bling isn't for everyone, but if you've got a little sass in your style, have fun with it!
Also, you don't have to be a hip hop star or fan to enjoy the bling that goes along with it!
***
I hope you enjoyed this Fashion post on Life of Kimberly Edwards! Until next time…
I Am & Will Continue To Be,
Kimberly Edwards 🙂
P.S. Be sure to get your Free Subscription of Life of Kimberly Edwards!
Technorati Tags: hip hop jewelry, bling, fashion, style, jewelry, trendy, iced out, bracelet