I Need a Personalized Ink Stamp!
14
I was checking out PosyLane.com again today and I fell in love with the idea of getting a personalized ink stamp!
It may sound funny or vain, but actually, they are really cool…I just want one for the heck of it…LOL
I'd like to get 2 of them.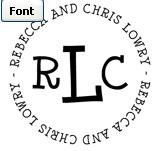 1. For both me and my hubby – An example is here to the left…They have different fonts, but I love that ours would be K E K We're just cheesy like that!
Isn't this awesome?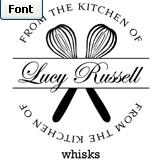 2. For all of my recipes and Cooking With Kimberly correspondence – Check out how neat this one is to the right! They have one with spoons in the background instead of whisks too.
I just fell in love with these…I'm sure I could find a use for another personalized ink stamp – they have some great ones that you can use for return address labels.
What's really cool is that you can also make these stamp desings into embossers – Neat idea, right?
They're so creative and stylish…
Posy Lane just has the cutest stuff – I checked out their personalized children's nap mats and I can't wait to buy one for a friend's child close to me!
Of course, I'm girlie, so I'd have to get the pink one with little ponies around the border. I love how you can personalize it with the child's name and you get to decide if you want the pocket of the blanket or the actual blanket embroidered and with what color thread, as well as your desired font…Love that!
Go check them out – they've got so much more that I couldn't even begin to scrape the surface to tell you about all my little finds there!
***
I hope you enjoyed this Neat Stuff on Through the Eyes of Kimberly! Until next time…
I Am & Will Continue To Be,
Kimberly Edwards 🙂
P.S. Be sure to Subscribe to Through the Eyes of Kimberly Edwards Updates!
Technorati Tags: Posy Lane, personalized children's nap mats, personalized ink stamp, personalized embosser, personalized gifts, neat stuff