An Imaginary Shopping Spree at Talbots!
24
I just won a $500 giftcard for Talbots! (Well, not really – I'm just pretending – living vicariously through my imagination…LOL)
Well, if I did win one, what would I buy? Hmmm…
They have such beautiful and sophisticated pieces…These are my red chair confessions…LOL
I'm always drawn to the basics, first of all – a great fitting pair of jeans or dress pants, a fabulous white blouse in the season's style trend, basic t-shirts and long sleeves for layering. For cool weather, it is essential to have basic turtlenecks you're comfortable in – in black, white, grey and tan.
Then, I'm drawn to the glitz, glam and sparkle of the season – I love vibrant colors, glitter and pieces with that "Wow Factor" to act as focal points. Check out this Ruffled Placket Blouse in the color Peony – a show-stopper: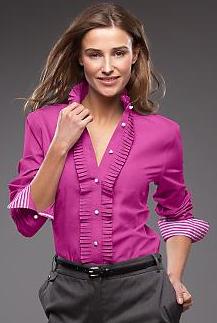 Of course, a great jean jacket, leather jacket and sweater are essentials for cool weather! Plus, a signature coat of the season…Check out this jacket from Talbots: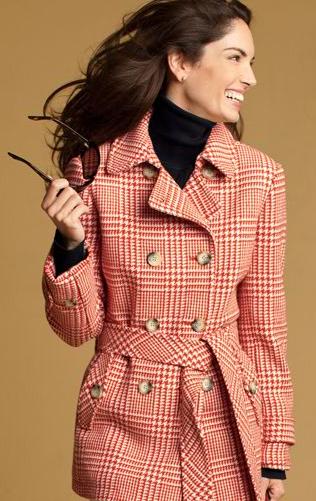 This outfit is just my speed – wear a black turtleneck and wear that beautiful signature coat that's a knock-out! This may be the nicest coat of the season!!!
Shoes…hmmm…Well, I always have a pair of white running shoes on the go at all times that are perfectly clean. Then, the sky's the limit when it comes to heels and boots for me – I love wild and basics alike! Oh yes, I've been "Jonesing" for a pair of cool rain boots that will be more comfy than my usual high heeled boots:
This season, I've been especially partial to the wide belts and sashes that are all the go right now…You can really dress up an outfit like a plain dress, as a bridge with a skirt and top or with a long dress shirt, even with longer t-shirts.
Well, that was fun!
If you won a $500 gift card for Talbots, what would you buy? Check out RedChairConfessions.com too – Talbots exciting, new, fun blog!
***
I hope you enjoyed this Fall Fashion post on Life of Kimberly Edwards! Until next time…
I Am & Will Continue To Be,
Kimberly Edwards 🙂
P.S. Subscribing to Life of Kimberly Edwards would be the best thing you've done all day!
Technorati Tags: Talbots, red chair confessions, 0 gift card, giftcard, RedChairConfessions.com, fashion, fall fashion