Landed a Great Modeling Promotion Job Today in Dallas
07
Just wanted to update you on my newest modeling/promotion job with a jewelry company in Dallas, Texas.
I'm starting the campaign on Tuesday next week. Then, provided I'm happy with them and they're happy with me, it will be on Thursday and Friday with continuing promotions they'd use me for. Very cool!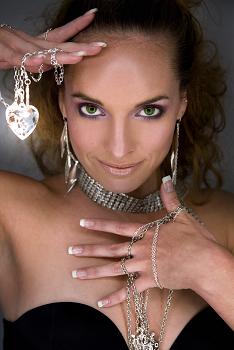 They want me to work with them exclusively when it comes to the jewelry industry in Dallas – and that's fine with me…
Doesn't this sound terrible? (LOL LOL LOL) – I get to wear absolutely gorgeous high end jewelry that costs a fortune, and show it to people!
Um…yeah…This job is right up my alley – my mother is a serious jewelry lover and has taught me a lot about it.
I'm pretty excited about this! Yay!
* Stay Tuned: Want to know how I landed this modeling job and many others without an agent? I'll be teaching you how soon!
***
I hope you enjoyed this Modeling post on Life of Kimberly Edwards! Until next time…
I Am & Will Continue To Be,
Kimberly Edwards 🙂
P.S. You too can Hire Kimberly as a Model!
Technorati Tags: modeling, Canadian model, Kimberly Edwards, Dallas modeling, jewelry model, promotional model