Pikake Lei 5-in-1 Wash: Beauty Product Review
16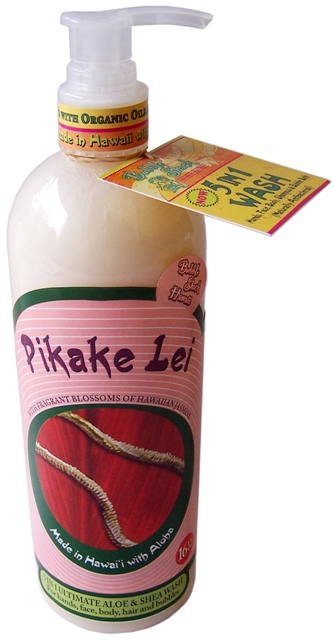 Tonight, I used the very last bit of Pikake Lei Body Wash from Bubble Shack Hawaii in the shower…
…I was very sad as this is one of the most fantastic scents I've ever smelled, especially for a beauty product.
It's tropical, floral, sweet and amazing, to say the least.
The bottle I've shown you on the left in this post is their 5-in-1 Wash for Hands, Hair, Body and the Face, as well as a Bubble Bath enhanced with Aloe and Shea. It's also organic!
It has a great lather and I especially love shaving my legs with it.
The fragrance in the bathroom after a shower with the Pikake Lei Body Wash is fabulous…Enjoy a little bit of the Tropics even when it's Fall or Winter outside!
Want to try it for yourself?
Want to experience this Hawaiian treasure?
Here's how to order:
***
I hope you enjoy this Beauty Product Review on Livin' Like Kimberly Edwards. Until next time…
I Am & Will Continue To Be,
Kimberly Edwards