Really Gorgeous Watches and Time Pieces
28
Wow – nothing completes your look like a beautiful bracelet, bangle or amazing watch, does it?
I happened across this website today and I was thrown back by the beauty of these watches.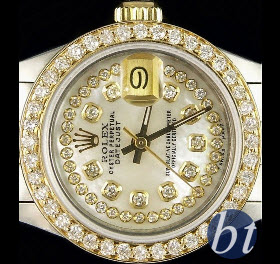 They have 100% genuine Rolex watches on their front page – that must be what dazzled me…
How yummy is that watch face above, right? Ugh…beautiful!
They have an entire collection for Men and Women, specializing in these Rolexes, including replacement or upgrade parts for Rolex watches, and Rolex bracelet watches too.
www.bestoftime.com also has other beautiful fine jewelry and watch winders available.
At the top of their home page, it says you can save $1,000 instantly when you purchase any luxury timepiece, today only!
However, even if you're not reading this today, the day I posted this, BestOfTime.com has seriously discounted prices compared to the manufacturer's suggested retail prices.
Why? (I had to know too…)
They are an independent dealer of new and pre-owned (pre-loved) Rolex watches and they're able to avoid the manufacturer's pricing controls giving you, the customer, greater deals!
Basically, they decrease their profits in order to sell more of them and make you happy as a new Rolex owner! Great idea, right?
Whatever the reason – that's great for us! Enjoy this find!
***
I hope you enjoyed this Fashion post on Life of Kimberly Edwards! Until next time…
I Am & Will Continue To Be,
Kimberly Edwards 🙂
P.S. Be sure to get all of your Kimberly Edwards Updates on Time!
Technorati Tags: Rolex, Rolex time pieces, time pieces, watches, Rolex watches, jewelry, fashion jewelry, bling, genuine Rolex