The Coolest Photo Frame Yet
30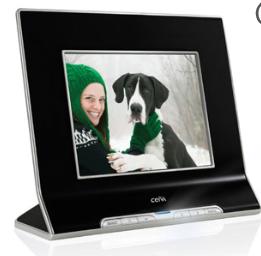 Have you seen the CEIVA Digital Photo Frame yet?
If you haven't…you'll be astonished.
I know you've seen digital photo frames before and yes, they are very very cool in their own right!
However, this is a photo frame you can give to someone or purchase for yourself, and you can get photos from anywhere in the world from anyone you like sent directly to your photo frame.
So, one morning, you can wake up to the newest photo of your niece, nephew or grandchild immediately!
You can get photos from your child in college, you can receive your sister's newest modeling photos or anything! The possibilities are endless.
It hooks up to an existing phone line or optional Wi-Fi and can receive photos from any computer or camera phone.
Worried about photo quality or stretching and scrunching? No need…The photos are displayed perfectly without cropping, squishing or stretching, so you're ensured quality photos just the way they were intended!
I would have loved this product when I was in university in the States, as my parents live in Canada…It would have been so very neat to be able to upload the newest game photo or pictures of me and friends, or my newest accolades just for them!
I know this would have been my prized possession if I had one that my parents could have uploaded photos…My mother would have sent me a new one every day! It would have made me feel so much more connected, especially when I was feeling so very homesick!
It's the closest thing you can get to actually being there…
Check it out for yourself! This is on my new Wish List!
***
I hope you enjoyed this Neat Product on Through the Eyes of Kimberly Edwards! Until next time…
I Am & Will Continue To Be,
Kimberly Edwards 🙂
P.S. Please be sure to Subscribe to this Blog!
Technorati Tags: neat stuff, neat product, digital photo frame, photo frames, Ceiva photo frames, Ceiva