Want Good Answers for Swine Flu?
01
I was doing a little research online today about the Swine Flu outbreak, now being referred to as H1N1 influenza A.
Why are they calling it that now? Because it's hurting our pork farmers, mostly…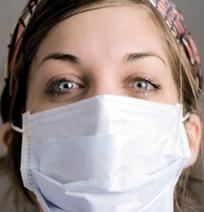 Anyway, I ended up on a website, Scrubs Mag, that's geared towards nurses mostly…
…but what I loved about the site was that it was easily understood by a lay person – they don't speak in medical terminology that is so confusing or advanced that we can't get what they're talking about.
The article I read was "What Nurses Can Tell Patients About Swine Flu".
Not only did it cover some now popular "myths", but prevention, diagnosis and how to handle a serious outbreak in your community or in your family.
Okay people, you cannot get swine flu from eating pork chops or ribs…In fact, Egypt slaughtered 300,000 pigs on Wednesday in the hopes of preventing the spread of swine flu, but guess what…you aren't going to get it from a pig.
It's person to person contact with people infected that's the problem. If you see someone coughing, walk away (quickly) and ask them to cover their mouths with a mask, if it's a constant cough, just in case.
Be sure to wash your hands frequently and don't touch your mouth, nose or eyes without washing your hands first.
Of course this story would stick out with what's going on and frequent news updates speaking of a global pandemic.
This is a very serious issue, and I'm glad I found this article @ ScrubsMag.com – it was informative without being so "suchy much"! 🙂
I also had a peak at a few other articles that were interesting to me – one being "Praying with a Patient"…What do you think?
***
I hope you found this Health Tips post helpful on Through the Eyes of Kimberly Edwards! Until next time…
I Am & Will Continue To Be,
Kimberly Edwards 🙂
P.S. Be sure to Subscribe to Kimberly's Updates Here.
Technorati Tags: swine flu, nurses, H1N1 influenza A, flu, influenza, health, viruses, pandemic, flu prevention