Web Chef Review: Algae Omega & Baby's DHA Vegetarian + Giveaway
22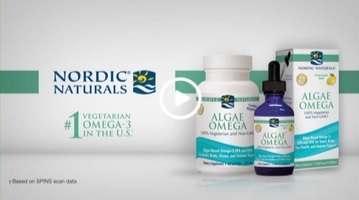 I'm bringing two vegetarian products to you today, you may not have known existed, both of them from Nordic Naturals.
Nordic Naturals Algae Omega an Baby's DHA Vegetarian are two exciting products providing excellent alternatives for vegetarians & vegans alike to support good health.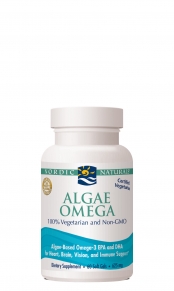 I have had the opportunity of trying Nordic Naturals Algae Omega, and I must say that I'm sold.
This is a 100% vegetarian formula of algae-based Omega-3 EPA & Omega-3 DHA that is a more enjoyable way to take these supplements. This is one of the very few algae oils with significant amounts of both EPA & DHA.
This formulation supports normal vision, heart health & positive mood, as well as promoting the natural anti-inflammatory response.
Perfect for vegetarians & vegans, this supplement fills in the gap in diets needy for Omega-3s, something often lacking when participating in such a diet. Other typical diet deficiencies are B vitamins, iron & protein.
Nordic Naturals vegetarian formulas are made with premium plant-based ingredients that are non-GMO, as well as being hexane free. Their signature omega oils are independently tested for purity & freshness.
Why would you want to take part in a vegetarian way of living? Vegetarians have been shows to be at a lower risk for developing diabetes, obesity, hypertension – aka high blood pressure, colorectal, ovarian & breast cancers, as well as heart disease.
In the past, when using Omegas that are fish-based, I've noticed they tend to repeat on you, in a way. You can often taste a fishy flavor after you've taken them. That is definitely not the case with this product.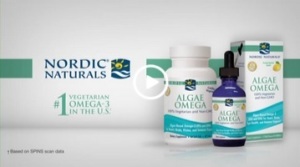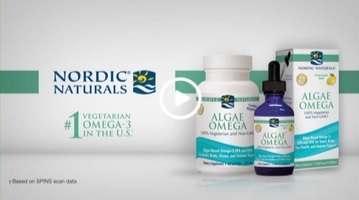 There are times when I won't have the chance to grab a bite to eat, running errands, or just busy work throughout the day. It is usually recommended when taking vitamins & supplements to take them after eating. Even on an empty stomach, these Omegas don't bother my tummy in any way. That's comforting to know.
The pills are not too large either – one of the problems I often have when choosing & taking like supplements.
A benefit of Nordic Naturals is that they make these vegetarian & vegan formulations without the use of animals of any kind. Although, they are world-renowned for their high quality fish oils as well.
These formulas are great vegetarian alternatives to animal-sourced vitamin D3 & fish oil.
A variety of vegetarian & vegan products is available such as Baby's DHA Vegetarian, Algae Omega, Nordic GLA, Vitamin D3 Vegan, Vitamin C Gummies & Nordic Probiotics.
If you are raising your baby with a vegetarian diet, Nordic Naturals Baby's DHA Vegetarian is the perfect formulation for you. It is completely vegetarian & vegan.
This formulation is meant for babies 6 months or older, or as directed by a pediatrician.
For best results, be sure to serve this supplement with food.
Product must be refrigerated after opening.
Easy to give to babies with a measured dropper format, this superior triglyceride formula delivers Omega-3 DHA, Omega-3 EPA & other Omega-3s as well.
An easy-to-use chart based upon body weight of your child is included on the box for simple dosing measurements.
Why should you be sure your baby gets their Omega-3s? Well, in babies it supports brain & visual development.
Omega-3s support learning & language abilities in babies & young children, as well as healthy nervous system development.
In the beginning, DHA in pregnancy may ward off babies' colds, found in a 2011 double-blind, controlled study. They found it decreased the overall occurrence of cold symptoms in children at 1 month, and decreased the duration of most symptoms observed at 1, 3, & 6 months.¹
Many children don't get all of the Omega-3s they need for both DHA & EPA, shown in a recent study quantifying fatty acid intakes in children 4-8. The study discovered that only 22% of these children got their expert-recommended adequate intake for both Omegas, 3 EPA & 3 DHA.²
1. Imhoff-Kunsch B Stein A Martorell. Pediatrics August, 2011.
2. Madden, SM, Garrioch CF, Holub BJ. J Nutr 2009;39(3):528-32.
For more information on these Nordic Naturals products, check out Nordic Naturals online or your local health food store.
Giveaway:
The 10th person to comment leaving their name, email address & physical address (USA & Canada only) on this post, with the hashtag #NordicNaturalsVegetarian will be the winner! You must have your entries in by November 1st, 2014 @ 12:00 am.
Comments with personal information will not be published, and will not be shown publicly.
You will be contacted by Kimberly, letting you know you won the Nordic Naturals Vegetarian Giveaway on Kimberly-Turner.com.
Products will be shipped to the winner on November 2nd, 2014.
Winner receives:
1 Bottle of Baby's DHA Vegetarian:

100% vegetarian, suitable for vegans
One of the very few algae oils with significant amounts of EPA
Made from microalgae, the original source of marine omega-3
Supports normal vision, heart health, positive mood, and immunity
Sustainably sourced
Non-GMO & hexane free
Certified by the America Vegetarian Association

1 Bottle of Baby's DHA Vegetarian:

Swag Bag
I received one or more of the products mentioned above for free using Tomoson.com. Regardless, I only recommend products or services I use personally and believe will be good for my readers.