Web Chef Review: Be Natural Organics Pomme D'Or Swiss Apple Stem Cell Serum
22


I am really excited to be able to share this great, new skin care product I've had the opportunity of trying – Be Natural Organics Pomme D'Or Swiss Apple Stem Cell Serum.
Stem Cells?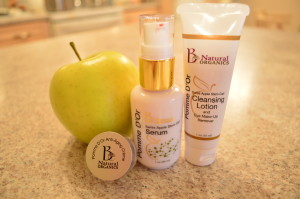 You're probably wondering…Stem Cells? What the heck is that all about?
Don't worry – they're not human stem cells. These ones are plant derived – from Swiss apples, to be exact.
There are certain fruits & veggies that tend to last longer than others, and these particular plants are used to isolate stem cells used in products like these.
Swiss apples, grapes, gotu kola, and melons are among those utilized for such innovative skin care products.
What do stem cells do?
Well, stem cells are very special cells that have the ability to regenerate, and renew themselves. It is thought that these stem cells will help your skin regenerate itself as well.
This award winning plant stem cell technology provides concentrations of proteins, peptides and epigenetic factors to renew skin's youthful appearance.
If you are looking to turn back time & renew the vitality of your skin, this Be Natural Organics Pomme D'Or Swiss Apple Stem Cell Serum hydrates your cells, giving you a fresh face forward.
Video Review:
Find out about this product on this webisode of What I Say About Stuff:
What's in it?
Ingredients: Aloe barbadensis (aloe vera) leaf juice, aqua (water), glycerin,, propanediol, populus tremuloides (aspen) bark extract, gluconolactone, euterpee oleracea (acai) fruit extract, malus domestica (apple stem cell) fruit cell culture extract, sodium hyaluronate, matricaria recutita (chamomile) flower extract, xanthan gum, sodium benzoate, phenoxyethanol, lecithin, maltodextrine.
What does it smell like?
First off, I'm all about what a product smells like. I will either love it or hate it. Anything too perfumey gives me a headache, and some, well, could smell better.
Be Natural Organics Pomme D'Or Swiss Apple Stem Cell Serum doesn't actually smell of apples at all, in fact. It does, however, have a most fresh, spa-like, appealing scent with notes of aloe, fruit & wood. After application, the scent quickly disappears.
Men could use these products from Be Natural Organics without them smelling or feeling girly about it either. These are definitely unisex products, in my book.
What does it look like?
This serum comes in a white, 1 oz, glass bottle with a pump & cap. It dispenses the perfect amount of serum you'll need for an application on your face. One more pump and you can cover your neck too.
Maybe of no significance to some, I really enjoy this serum's pinkish color. Most products out there are white or clear, it's just nice to see something different.
How do you use it?
After cleansing, apply a small amount of serum to your face & neck. Wait 10 – 15 minutes before applying any other cream or eye product.
It works well under makeup too.
What does it feel like?
This serum is super-hydrating. It's not oily, it is water-based and glides on smoothly, like silk. It also has a cooling feel when you apply.
You will definitely feel like you have something on your skin for a few minutes, but that goes away quickly, leaving you with fresh, soft, moisturized skin.
How well does it work?
Here's what you've all been waiting for…Does it work?
I think so. My face feels soft, it has a luminous glow, it feels moisturized and looks healthy.
I've been using it for a few weeks now, and it's the dead of winter here in Canada. I'm typically reapplying moisturizer all day, as your skin can get very dry, even chapped from the dry cold & wind. Not with this product.
Where can I find it?
I'm excited to share with you more on Be Natural Organics skin care line. Check out these reviews too:
Be Natural Organics Pomme D'Or Swiss Apple Stem Cell Anti-Aging Créme
Be Natural Organics Pomme D'Or Swiss Apple Stem Cell Cleansing Lotion & Eye Make-Up Remover
I hope you'll give Be Natural Organics Pomme D'Or Swiss Apple Stem Cell Serum a try – I think you'll fall in love with it too.