Web Chef Review + Contest: Microbiome Plus+ Gastrointestinal Probiotic
22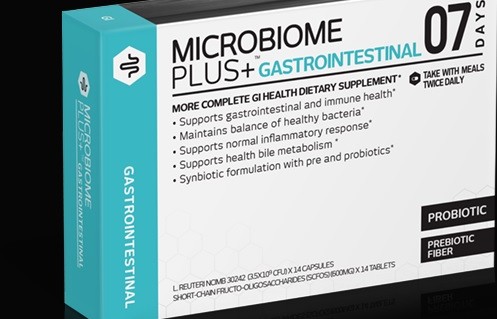 It's the New Year, and many of us renew our vow to be healthier, making this review for Microbiome Plus+ Gastrointestinal Probiotic part of your resolution.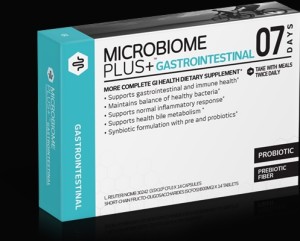 Being healthy comes from the inside out, and depends upon what you put into your body to fuel & renew you.
I'm certain you've heard of probiotics before. They are the healthy bacteria in your gut that assist in promoting normal digestive function.
Now, let me  hip you to the term prebiotics – these are not the same as probiotics. Prebiotics are in fiber form, and they nourish the good bacteria in your gastrointestinal system, which, in turn, helps those probiotics to flourish & multiply. Think of them as a fertilizer that helps probiotics grow.
That being said, Microbiome Plus+ Gastrointestinal Probiotic is a complete supplement with not only probiotics in L. reuteri NCIMB 30242 form, but including natural prebiotic fiber (scFOS), which work together maintaining a balance of healthy bacteria in your GI tract to support your body's normal digestive functions.
Find out about this product on this webisode of What I Say About Stuff:
Check out this tutorial on what prebiotics & probiotics do to help keep you healthy:
In clinical trials, Microbiome Plus+ Gastrointestinal probiotic has been shown to support normal inflammatory response, and boosting your digestive health.
The natural prebiotic fiber, scFOS, in this health supplement, supports that healthy GI tract promoting proper digestive function, increasing immunity, as well as assisting in the growth of healthy bacteria. It provides a natural intestinal mechanical barriers, and promotes gut integrity, overall.
If you're looking for a more complete way to promote your gastrointestinal health, Microbiome Plus+ Gastrointestinal combines these two fundamental ingredients to accomplish that goal.
Contest:
Are you interested in trying Microbiome Plus+ Gastrointestinal to promote a healthy digestive system?
Well, enter our contest to win a package of this healthy supplement for your diet. Just answer a few questions by submitting a comment below the post, which will not be published.
Name
Email
Mailing Address
Are prebiotics & probiotics the same thing? Yes or No
What probiotic is in Microbiome Plus+ Gastrointestinal?
Skill Testing Question: (5 + 11) ÷ 4 = ?
Complete submissions with correct answers will be put into a random drawing to win Microbiome Plus+ Gastrointestinal.
The winner will be chosen by Jan. 4, 2015.
Be more aware of your health this year, and check out more information on Microbiome Plus+ Gastrointestinal: