Web Chef Review + Giveaway: B.O.N Skincare Nourishing Skin Oil
01

B.O.N Skincare Nourishing Skin Oil isn't just great for stretch marks…
What's it for?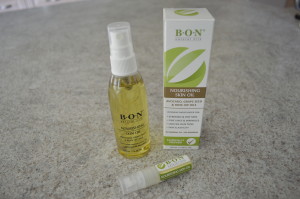 B.O.N® Skincare Nourishing Skin Oil
is especially helpful for:
stretch marks
dry, itchy skin
scars
fine lines & wrinkles
problem skin
evening skin tone
Does your skin need help? It's no problem for this natural & effective blend of oils to help regenerate & nourish your skin.
Perfect for everyone – women, men, children & babies.
Find out about this product on this webisode of What I Say About Stuff:
What's in it?
A nourishing blend of avocado oil, grape seed oil & rose hip oil, as well as vitamin E go the distance to moisturize your skin, heal & regenerate healthy skin cells, evening your skin tone & improving skin elasticity.
Avocado Oil:
Avocado oil is a natural source of vitamin A, C & E, is rich in sterolins & amino acids. This makes it an amazing moisturizer and helps nourish skin, and even skin tone.
This oil absorbs easily into skin, relieving dryness.
Grape Seed Oil:
Grape seed oil has linoleic acid (Omega 6), strengthens cell membranes & stimulates cellular re-growth.
It helps with the appearance of fine lines & wrinkles by moisturizing, firming & toning skin.
Rose Hip Oil:
Rose hip oil is rich in natural vitamin A, assisting with skin tone & elasticity. This is an especially helpful ingredient to alleviate & get rid of stretch marks, and similar scars.
What's not in it?
no harsh chemicals
no liquid paraffin
no mineral oil
no parabens
no BHT
no colorants
no animal products
How did it work?
I've been using B.O.N Skincare Nourishing Skin Oil all over my face, on dry heels, hands & elbows, and I have been enjoying it.
My heels are healing up from being dry & cracked, and my hands & body are soft, and moisturized.
I can see & feel a real difference on my face, as it gives me a youthful glow, and is surprisingly non-greasy. I was worried, with my combination skin, that this oil might clog my pores and give me blemishes, but it seems to even out my skin tone, as well as stabilizing dry & oily zones.
There are no added fragrances, yet the natural ingredients have a light scent that is like a breath of fresh air, and isn't too girly for the men of the household.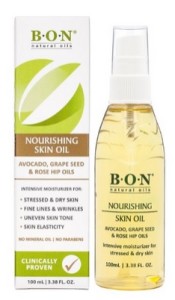 It absorbs really quickly, and you can even use it on your hands, the use your laptop or cell phone, and not have an oil slick form in any way.
The spray bottle B.O.N Skincare Nourishing Skin Oil is wonderful for focusing the spray where you want it to go. Not only that, there is no contamination back into the bottle, in instances where you'd use a cotton pad or your fingers to apply oils or lotions.
The best time to apply the oil is right after a hot shower, as your skin is more apt to absorb what you put on it.
Enter the Giveaway: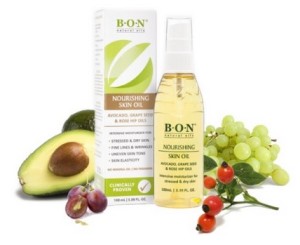 Enter by June 19th, 2015 before 1:00pm ET by leaving a comment below this post about why you'd like to try B.O.N Skincare Nourishing Skin Oil, and go LIKE this fan page below for extra entries:
Please let us know if you've liked the fan page with your profile name, so we know how many entries to include for you. We will need your Facebook profile name to confirm.
One entry will be chosen randomly. The winning entry will be contacted for shipping information.
B.O.N Skincare Nourishing Skin Oil is wonderful for so many skin issues, and perfect for everyone to use. #BONStretchMarkOil