Web Chef Review: GRATiAE Exfoliating Body Scrub
26


It doesn't matter the time of year, GRATiAE Exfoliating Body Scrub will help give you beautiful skin.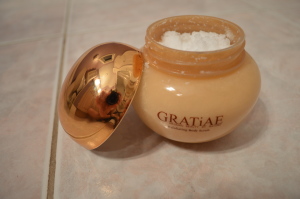 Whether it's summer, winter, fall or spring, our bodies shed skin cells. Sometimes, our body needs some help with that.
Exfoliating your dry skin helps keep your skin clean, unclogs your pores to an extent, may assist in accelerating blood circulation, and leaves your skin refreshed, invigorated, soft & supple.
However, it's also important to moisturize that skin you just exfoliated. This exfoliant from GRATiAE does it all in the most beautiful of ways.
I had the opportunity to use the Apple, Green Tea & Ginger body scrub, but they also have a Passion Fruit & Lime scrub in this line. The plastic container the product comes in is lovely on your counter or in the shower, and is plastic, so there's no worries of dropping it & breaking glass.
Some of the ingredients in this body scrub are salt, sweet almond oil & jojoba seed oil. These oils used are cold pressed, meaning the oils are harvested by pressing or grinding, and not allowing the temperature to rise above 120ºF, despite friction that may ensue from their extraction. Cold pressed oils retain all of their flavor, aroma, and nutritional value. In this case, the aroma of these oils & their nutrient value for your skin are the benefits, in this instance.
GRATiAE boasts superior lifting, revitalizing, firming & age defying from this scrub, all of which we won't complain about!
This exfoliating body scrub is easy to use, as you simply apply it to your wet skin in the shower or bath, and using a circular motion, scrub your skin. You follow that by rinsing with warm water, leaving your skin feeling smooth, moisturized and invigorated. Plus, it perfumes your skin with a light scent.
Not only does this scrub smell wondrous filling your bathroom with a glorious fragrance, but it gently exfoliates your skin, leaving it feeling fresh, awake and moisturized.
The ingredients used are certified organic with responsibly wild-crafted herbs. GRATiAE's products are ISO & GMP certified, holistically balanced, and are cruelty-free, as they're not tested on animals.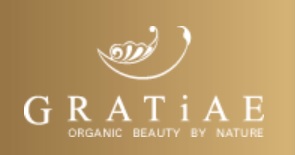 You will really enjoy using the GRATiAE Cosmetics line, and you can find them online:
I do hope you'll try GRATiAE Exfoliating Body Scrub to experience all the reasons I'm loving it!
I received one or more of the products mentioned above for free using Tomoson.com. Regardless, I only recommend products or services I use personally and believe will be good for my readers.