Web Chef Review: Manuka Magic Facial Cream with Bee Venom
23


Manuka Magic Facial Cream with Bee Venom doesn't just sound cool, it works like magic too…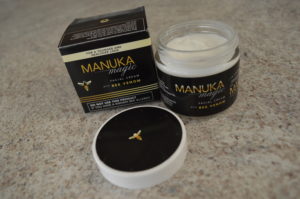 Now, honey isn't just good for your body, it's a wonderful healing agent, which is the basic premise of adding manuka honey to skin care products like this one.
Both manuka honey & bee venom tighten the skin naturally.
The bee venom, in particular, stimulates elastin & collagen in your skin, helping make your facial tissue stronger, tighter, and more supple. It promotes your blood to circulate in your skin, giving you a healthy, fresh glow, leaving you radiant to start your day.
Manuka Magic Facial Cream with Bee Venom:
Not only is this a facial cream, but you can use it on your eyes as well! To me, there's just nothing like an all-purpose facial cream – and one that actually works.
Warning:
If you have a known allergy to bee products, please don't use this skin cream.
Find out about this product on this webisode of What I Say About Stuff:
When using Manuka Magic's cream, I can see a difference in my eye area, especially when I'm tired – Don't forget…you can use it on your eyes as well! It has a nice moisturizing effect, and doesn't seem to be clogging my pores at all.
It's a light, non-greasy cream, pure-white in color, and no fragrance I can detect. Manuka Magic Facial Cream with Bee Venom comes in a glass jar with a sturdy screw cap, and it's attractive enough to leave out on your counter.
Some Ingredients:
water
sesame oil
radish root
manuka honey
bee venom
grape seed oil
pumpkin seed oil
pomegranate seed oil
jojoba seed oil
almond oil
carrot seed oil
matricaria flower extract
cucumber fruit extract
These ingredients are expertly combined for their nourishing qualities beneficial for your skin – making it soft, smooth, dewy.
Are you wondering how they get the bee venom? Don't worry, it's harvested in a bee friendly way. Find out more:
Manuka Magic Facial Cream with Bee Venom is available online from Buncha Farmers:
Manuka Magic Facial Cream with Bee Venom is certainly one worth trying out for yourself – I have enjoyed the results! #ManukMagiwithBeeVenom