Add @KimberlyE as a Friend on Twitter!
11
posted by Kimberly on What's New
I just realized I hadn't told you about my profile on Twitter!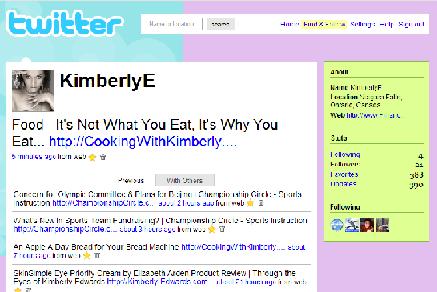 Add me as a friend!
My Twitter ID is KimberlyE.
Twitter is like a constant status update with what I'm doing, what I like and don't like, and websites I find interesting…
It's pretty cool! You can also reply back to any of my updates!
I hope you check it out! Check me out!
***
I hope you enjoyed What's New on Through the Eyes of Kimberly Edwards! Until next time…
Kimberly Edwards 🙂
P.S. While you're @ it, Add me as a friend on Stumble Upon…one of my favorite social bookmarking sites!
Technorati Tags: Twitter, Stumble Upon, friends, social networking, social bookmarking
Tags: friends, social bookmarking, social networking, Stumble Upon, Twitter