Joan Rivers Results Skin Care Review: Nightly Improvement Treatment Formula
22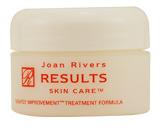 I just finished a jar of Nightly Improvement Treatment Formula from Joan Rivers Results Skin Care my mother gave me to try.
I'm not sure what to say about it – I don't like the smell…but my mother loves it! She says it smells fresh & clean to her.
I felt as though it worked satisfactorily, but nothing over and above a bottle of "oil of beauty" from WalMart.
My husband hates the smell of it – in fact, he almost has an allergic reaction if he comes in contact with it…
I wish I could give you more, but I wasn't sold on this product. My mother, on the other hand, loves it.
See for yourself!
***
I hope you enjoyed this Product Review on Life of Kimberly Edwards! Until next time…
I Am & Will Continue To Be,
Kimberly Edwards 🙂
P.S. Here's where to find it:
Technorati Tags: Joan Rivers Results Skin Care, Results Skin Care, Joan Rivers Results Skin Care review, nightly improvement treatment formula review, nightly improvement treatment formula, skin care review, beauty product review, Joan Rivers products, Joan Rivers review