New Wishlist for Vacation: Walks of the World
21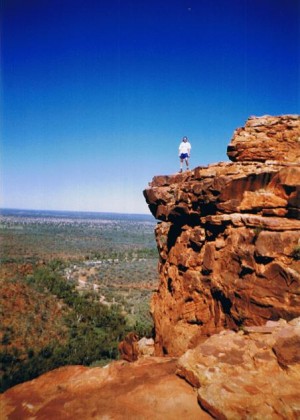 As many of you may already know, I'm quite an adventurous girl when it comes to travel and travel experiences.
I have swam with whale sharks, been in the water with crocodiles bigger than our boat, swam in jellyfish infested waters, para-sailed over the Everglades, hot air ballooned, and so much more I couldn't even get into it all here.
Yes, that's me in that photo to your right hand side. It's a photo of me trekking through King's Canyon in Central Australia back in the 90s. What an experience!
However, there is one type of trip I'd still like to try out, and I think it's going to gain momentum as a trend in Eco-tourism as well.
These tours are walking holidays in such amazing places as Costa Rica, Bulgaria, Nepal, France.
How amazing would it be to hike or trek through the mountains, rain forest and the like? What a real experience with nature you would have the fortunate ability of taking part in.
Questions:
What do you all think?
Would you go on a Walk of the World?
***
I hope you enjoyed this Neat Stuff on Livin' Like Kimberly Edwards. Until next time…
I Am & Will Continue To Be,
Kimberly Edwards