Web Chef Review: Anthrodesk Anti-Fatigue Standing Desk Comfort Mat
17

If you have to stand a lot throughout the day, the Anthrodesk Anti-Fatigue Standing Desk Comfort Mat is worth trying out!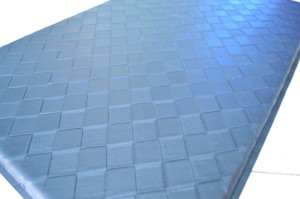 This comfort mat is made of high density ergo-foam, which helps reduce fatigue from standing.
Now, the AnthroDesk Anti-Fatigue Standing Desk Comfort Mats
are specifically made for those who are working with an Anthrodesk Standing Desk, or transitioning to a standing desk at work, but this mat works well for so many different activities:
working at your standing desk
washing dishes
cooking at the stove
in the workshop
great for hair stylists
doing crunches & sit-ups on
getting ready in the bathroom on
brushing your teeth on
doing crafts
Find out about this product on this webisode of What I Say About Stuff:
The Anthrodesk comfort mat is large enough to accommodate where you are standing, with measurements of 18″ x 30″, and gives you some activity room as well, maximizing support, cushioning & health.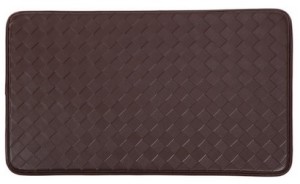 The Anthrodesk Anti-Fatigue Standing Desk Comfort Mat is available in 2 colors:
How did we like it?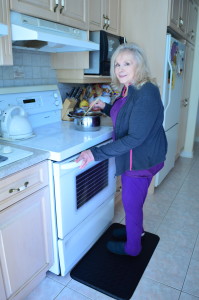 Most importantly, I was pleased that Mom enjoyed using the Anthrodesk Anti-Fatigue Standing Desk Comfort Mat, as she has severe arthritis in her feet. I've seen her use it while washing dishes, and cooking at the stove.
Mom certainly felt it helped her with being able to extend the time on her feet without her usual pain. It's also soft under her feet, which is amazing, as Mom actually walks with her ankle bone on the floor, due to arthritic changes in her ankle joint. It cushioned her feet, and made her much more comfortable than usual.
I, too, have used it while prepping ingredients in the kitchen, cooking at the stove top, washing dishes, and using my standing desk in various locations. It does comfort your legs and feet, in general.
The design is attractive with the woven leather look, and the mat grips nicely to the floor, even on ceramic tiles.
What's my favorite thing about it?
The material encompassing the ergo-foam is easy to wipe off, as it isn't like a carpet-style mat, or some other absorbent material. Just use a damp cloth, and mild detergent, if necessary, and dirt, grime & debris can be removed.
Where can I find this product?
We have been using our Anthrodesk Anti-Fatigue Standing Desk Comfort Mat every day, and we think you will too.