Web Chef Review: Exposed Skin Care Clarifying Mask
17


I have had the opportunity to try out the Exposed Skin Care line over the past month or so.
Exposed Skincare is specially created by dermatologists, cosmetologists, naturopaths, and chemists to provide an acne treatment skin care line that is natural & effective.
Not only does it treat acne, but it also prevents it from new acne from forming.
I have tried a number of product lines over my years for my acne. I'm well into my 30s and still get acne frequently.
Exposed Skin Care has a Facial Cleanser, Clearing Tonic, Acne Treatment Serum, Clear Pore Serum, Moisture Complex, Derm-X Cloth, Body Wash, Clarifying Mask & Microderm Scrub.
The bottles they are packaged in make it easy to dispense the amounts of product you require to use on your acne. I appreciate that, and the bottles are attractive, so you can leave them on your counter or in your shower, and it will look clean & tidy.
What's my favorite product in the line? Well, I really love the Exposed Skin Care Clarifying Mask. It goes on like dark charcoal in color. You leave it on for 10 – 15 minutes and rinse it off with lukewarm water.
It's recommended to use this mask once to twice per week, and is great for temperamental acne breakouts, as well as black & white heads.
This clarifying mask contains sulfur, resorcinol, kaolin & bentonite.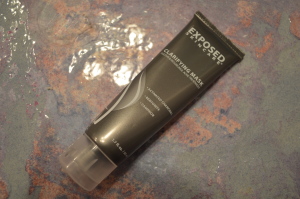 Both the sulfur & resorcinol are vital ingredients in the fight against stubborn acne breakouts. Resorcinol prevents clogged pores, also referred to as comedones by helping remove the buildup of dead skin cells.
Trapped sebum clogs your pores, and sulfur is recognized as a substance that removes excess oil & freeing that sebum.
What is awesome about this line is that it is mild enough not to bother my skin. I have tried some of the popular acne treatments, which caused my face to rash, peel & irritation. Even using the entire line over a month, my skin hasn't been bothered by harshness.
Your face feels clean, rejuvenated, smooth & much clearer.
The Derm-X cloth is unique in that it feels like your washing your skin with a piece of velvet. It gently exfoliates your skin uncovering younger, smoother skin, as well as evening out your skin tone.
I hope you'll try out this Skin Care line, and there's so much more to talk about with each of these high quality products.
I received one or more of the products mentioned above for free using Tomoson.com. Regardless, I only recommend products or services I use personally and believe will be good for my readers.