Coach Kimberly Edwards – Rhythmic Gymnastics
22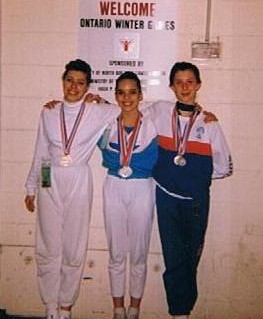 This afternoon, for the first time in 21 years, I am going to be coaching gymnastics.
Many of you may not be aware that I trained in both artistic and rhythmic gymnastics when I was younger.
I won 5 gold medals in the Ontario Winter Games…can't remember the year just off hand…in rhythmic gymnastics.
I then went on to train @ Seneca College in their youth accelerated sports programs with most of the athletes already on or training to be on the Canadian teams in either artistic gymnastics, rhythmic gymnastics or figure skating.
World renowned coaches I trained directly with were Martha Selmeczi and Liliana Dimitrova.
I coached for a while as a teenager after I retired from the sport to pursue playing softball, which I received a scholarship to the USA to play on a Division I team.
Now, I had the opportunity to watch the Summer Olympics and was again inspired in this area, as I truly enjoy still watching the sports I loved to participate in so much.
It just so happened that a friend suggested I come out and try coaching again at a local gym in Niagara, and on a whim, I said yes. This afternoon…so it begins…
I am actually very excited to sink my teeth back into this sport.  Wish me well!
***
I hope you enjoy this Sports post on Livin' Like Kimberly Edwards. Until next time…
I Am & Will Continue To Be,
Kimberly Edwards